November 17-20, 2003
Mandalay Bay Convention Center
Las Vegas, Nevada

Conference Hours:
Nov. 17-20: 9am - 5pm
Expo Hall Hours:
Nov. 17-19: 10am - 6pm
Nov. 20: 10am - 3pm
Registration Hours:
Nov. 17: 7:30am - 6pm
Nov. 18 - 19: 8am - 6pm
Nov. 20 - 8am - 5pm

Our industry requires a vertically focused, Enterprise IT event that includes a state-of-the-art and state-of-the-mind exhibition and conference that brings together IT professionals from throughout the world to promote the industry and discuss the issues of the day and the coming year.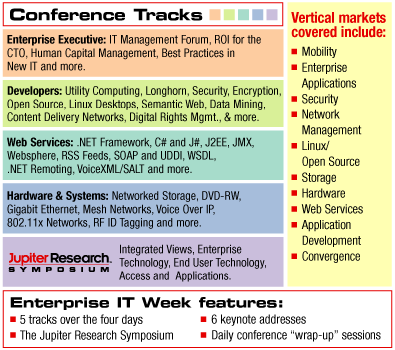 The foundation of a great trade show is a well-conceived and intellectually honest seminar program built by industry insiders. Jupitermedia's 20 million readers/subscribers rely on our journalists and editors every day to provide them with the unbiased information they need to do their jobs. Jupiter Research's analysts are heavily relied upon by the Fortune 1000 to help their marketing, strategic planning and technology executives make informed decisions by delivering industry-specific analysis and insight with comprehensive research, all backed by proprietary data. Jupiter Research's clients and our 20 million monthly readers have developed a trust in our teams and that trust has carried over to their support of our conferences and expos.
Exhibitor and Sponsor Information:
Exhibit Space Rates: $44.95 per square foot.

Exhibition space of 400 square feet or more includes hard-walled office space at no additional cost.

For Sponsor/Exhibitor Information, click here

or contact Sean Moriarty at 203-662-2822 or e-mail smoriarty@jupitermedia.com
Speaking Opportunities:
For those interested in speaking at Enterprise IT Week's conference, please contact the conference's chairman Jack Powers at jpowers@jupitermedia.com
Registration Information:
For registration information please click here or contact our Registration Department at registration@jupitermedia.com or (203) 662-2857


---

, , , & , .